PUBG Mobile was banned in India due to bad relations with the Chinese company. However, a few months into the ban, PUBG Mobile announced a new version for India that will be launched with their own parent company PUBG Corporation. Now, it has been weeks since the first announcement of PUBG Mobile India, but there is no launch date yet. The good news is that the PUBG Mobile India BETA version is now available.
If you are wondering how come PUBG Mobile is going to re-launch in India despite the ban. Well, the issue was Tencent which is a Chinese company. As you know the Indian government banned dozens of Chinese apps and PUBG Mobile was one of them. The solution for this was to cut ties with Tencent. And that's what PUBG Mobile Indian version does. It is powered by PUBG Corporation instead of Tencent.
Apart from this, the PUBG Mobile India version is also different in some other areas. It doesn't show blood effects, there are restricted time periods. Also, there is no compromise on nudity. Default players will be wearing clothes. This is not the first time that a country is getting its own personalized version. We have PUBG Mobile Global version, PUBG Mobile Chinese Version, PUBG Mobile Korean Version, etc.
PUBG Mobile India BETA Version Out Now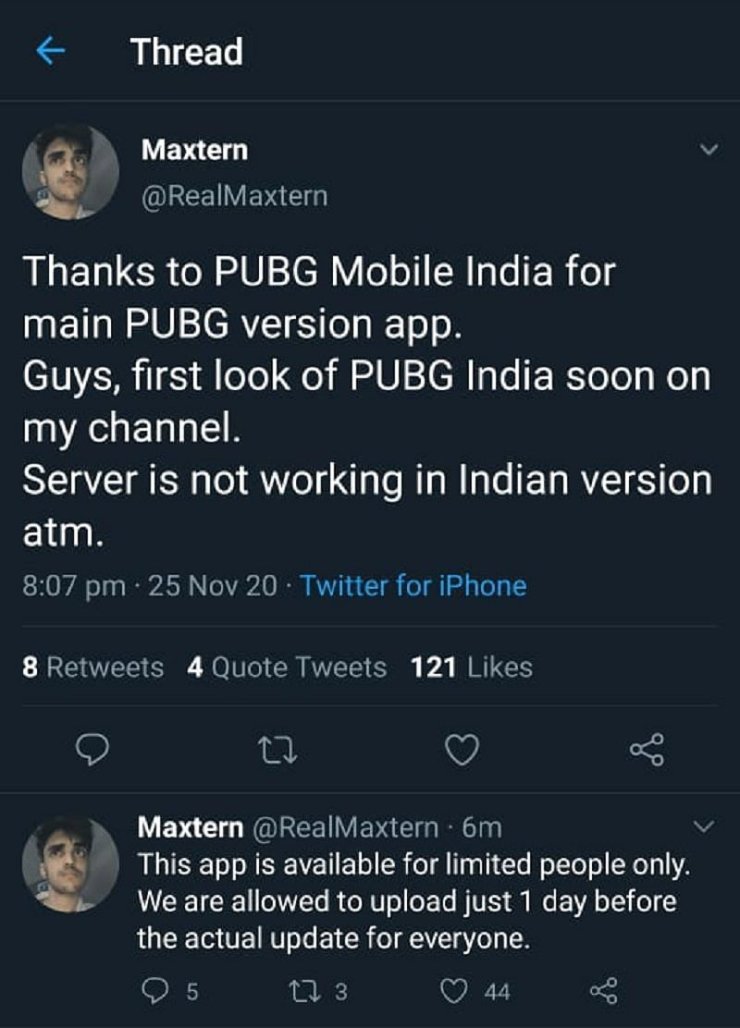 A piece of good news for the fans is that the PUBG Mobile India version is coming soon hinted at by its BETA version. A popular YouTuber Maxtern stated that he got the BETA version of PUBG Mobile India. In his tweet, he says that the server is not working in the BETA version. And also he won't be able to show the gameplay now. He can only show it one day before the official launch.
In a nutshell, PUBG Mobile India is sending BETA invites to popular streamers so they can check out the game and let the company know their opinions. This hints at a closer launch. We will keep you updated whenever there is news around PUBG Mobile India. For now, keep your eyes on  PUBG Mobile India's official website and Google App Store where the game will be available to download.
Read Also: Donut County Now Available For Google Play Store
Source: GuruGamer