Free Fire is known to be one of the best Battle Royale on smartphones. What is the reason behind it? Well apart from a good multiplayer survival and action combo, there is one thing more that makes Free Fire special. It is no other than the crossovers. You may have seen many cross overs in Free Fire. They did with a very popular web series called Money Heist. They launched Money Heist themed outfits, game modes, and more. Now, it's time for One Punch Man and Free Fire to collaborate. Yes, you heard it right we are going to see a Free Fire x One Punch Man crossover.
Free Fire x One Punch Man Details
If you are an anime lover, you must have known about One Punch Man. Although, I will give others an introduction. One-Punch Man is the story of Saitama, who is a bald superhero that can defeat any enemy with a single punch hence the name "One Punch Man." Coming back to ree Fire,. we are going to see a One Punch Man theme very soon. You will be seeing One Punch Man exclusive skins, costumes, content, easter eggs, and more. The Hero Trail event is all about chaos and disaster just like the anime.
Well, Free Fire is not complete without guns. And so, there are two weapon skins for the event. The weapons are Megapunch M1887 and the M4A1. Of course, that's not it. The game will also entertain you with its more free rewards. If you login into the game on 23rd January, you will be rewarded with a free Saitama Surfboard skin. You will get to destroy monsters and get rewards. Although, keep an eye on Pone-Punch Man Tickets that you will get from map drops.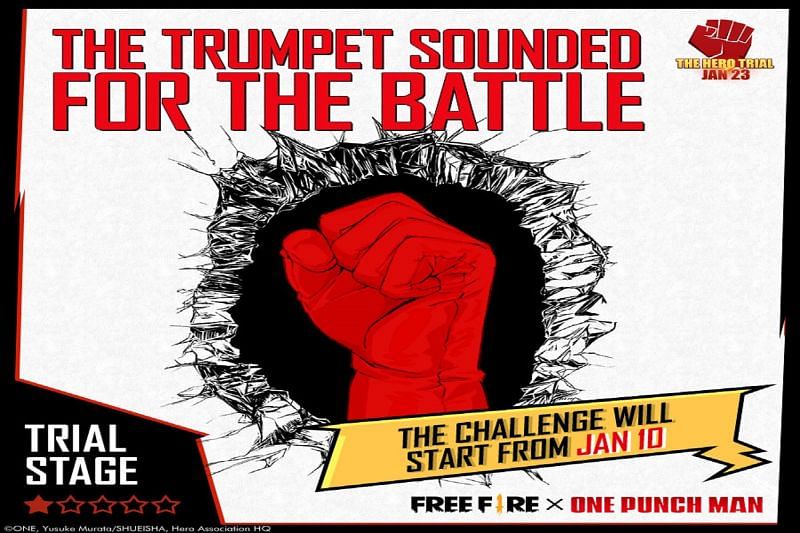 There is also a Path to Hero event with the same idea. You will kill monsters and get to open treasures. In a nutshell, this seems like a good update. I would like to give a thumbs up to Garena for the great crossovers. This type of activity makes the game fresh otherwise people would get bored. What are your options on Free Fire x One Punch Man crossover? Let us know in the comments section below.
Read Also: SpongeBob SquarePants: Battle for Bikini Bottom Is Coming To Play Store This Month