There is good news for PUBG Mobile fans. There is something very exciting coming. In the recent past few weeks, the news of an upcoming PUBG game has been circulating on the internet. But no one confirmed what is it and when it is coming. Now the new game is finally announced. It is called PUBG: New State and it is available on Google Play Store for Pre-Registration. 
PUBG: New State by Krafton inc. is the sequel of PUBG Mobile. But here the things are different, the game is set in 2051 with its futuristic features and equipment. You will see a lot of next-level things in the game like drones, next-level guns, and many more things. Although, the theme has changed the gameplay would be similar. There will be a hundred players on the map, a blue zone, and the last person standing wins. Their social media is full of announcements. Let's have a look over it.
"Coming in 2021, PUBG: NEW STATE features the most realistic battle royale experience you will find on mobile. Players will be able to drop in and explore a new map that expands the lore, experience graphics that push the limits of mobile gaming, master the best and most dynamic gunplay on the market, and enjoy next-generation survival features that evolve the battlegrounds."
Trailer is out
I think this news will be a treat for existing PUBG fans. The official Twitter account of PUBG New State has been created today. They posted their first tweet to know everyone that this is the official account of PUBG New State by Krafron inc. and PUBG Studio. They also uploaded the pre-order trailer of the game. The trailer looks insane. It shows new vehicles, new weapons, and a futuristic map. You can have a look yourself below. 
PUBG: NEW STATE is now available for pre-registration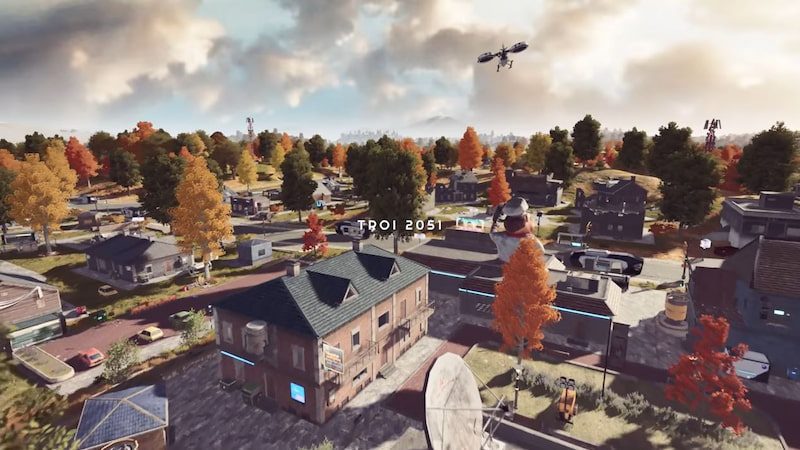 "Drop into PUBG: NEW STATE, the newest title by PUBG Studio, the creators of PLAYERUNKNOWN'S BATTLEGROUNDS. Using diverse weapons and tactics, 100 survivors will face off until only one player or team remains standing. With an ever-shrinking Blue Zone, players must find weapons, vehicles, and consumables to gain the upper hand."
The website says if you pre-register the game you'll get limited Vehicle skin permanently. The pre-registration is only available for Android devices. However, in a tweet, they say "Don't worry iOS users, we see you, pre-registration is coming to a later date!". Let us know what are your opinions on the upcoming PUBG: NEW STATE game.
Read also: FAU-G Is Getting Team Deathmatch Mode