PUBG Mobile is one of the most successful battle royale games. Players enjoy the blend of survival and teamwork in the battle royale. However, if things are repeated over and over again, then players will get bored. Hence, we see new collaborations happening now and then. Free Fire, a big competitor to PUBGM is more frequent with collaborations. However, a new report has arrived hinting that PUBG Mobile will be collaborating with Supercar Manufacturer McLaren.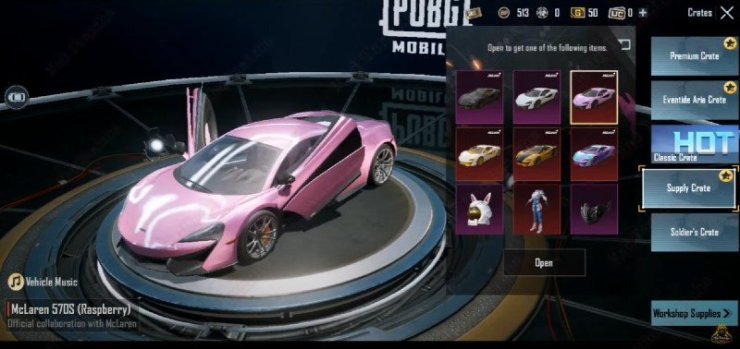 This will be one of the biggest collaborations of PUBG Mobile. The game is currently doing a collaboration with Godzilla Vs King. However, this collaboration will attract many gamers. Supercars in PUBG Mobile and that too of McLaren is truly a treat. Now the question is which car will arrive in the game. Well, McLaren 570S is going to appear in different color options. This supercar was released back in 2015. Below are the color options we will get to see in the game.
Zenith Black
Lunar White
Raspberries
Glory White
Pearlescent
Royal Black
This is not the first time that PUBG Mobile is going to collaborate with an automobile manufacturer. Previously, they collaborated with Yamaha and brought MWT-9 and the T7 Concept which are bikes. This time, it will be a supercar, so yes, it will be different and spicier. The method to get these two bikes were to open crates that were 60 UC. We are not sure what will be the method with McLaren supercars. Probably, it will be in crates too.
PUBG Mobile x Godzilla Vs Kong
For now, the PUBG Mobile x Godzilla Vs Kong collaboration is live with Patch 1.4 update. In this collaboration, many skins and modes have arrived. You will be able to spot Mechagodzilla at certain points on the map as well. Energy crystals will be available throughout the map which can improve your skills and abilities. Let us know your opinion on the collaborations of PUBG Mobile.
Read also: Now you can play Resident Evil Village on your smartphone