Grand Theft Auto 6 or GTA 6 is unarguably the most anticipated game of this decade. Fans from all over the world are always keen on any news or leaks regarding the game. The excitement towards any GTA 6 news is valid as it was last year when we heard from Rockstar games.
Interestingly this week brings a lot of info and leaks from GTA data miners. While there have been a lot of rumors and leaks circulating online, it is important to note that none of these has been officially verified by the game's developers. As we get closer to the official reveal of the game, the debate about the legitimacy of these leaks is becoming more intense. We can expect to see a lot of discussion and speculation about GTA 6 in the coming days.
GTA 6 First Screenshot reportedly got leaked on Reddit
As you can see in the above screenshot, a lady is standing in the dark parking allot. There are also few characters besides her. It was revealed last year that GTA 6 will include a female protagonist named "Lucia". Along with her, there will be a male character also dubbed as "Jason".  If you look closely, you will find all those three characters mostly seems like test models.
However, it is important to mention that the credibility of this screenshot couldn't be verified. It can be highly possible a fan art depicting GTA 6. There were many incidents in past, where many fan arts were depicted as GTA 6 leaked images. Whatever the case, one thing is certain: this screenshot looks gorgeous.
If this screenshot really belongs to GTA 6, then the graphics in the image are very good. The details are clear and look better than in previous games. The colours are bright and look like real life. It seems like the people who made the game worked hard to make it look better, and if this picture is right, GTA 6 might be the best-looking game ever.
GTA 6 Map Comparison Leak Reveals Huge Size Difference between Vice City and Los Santos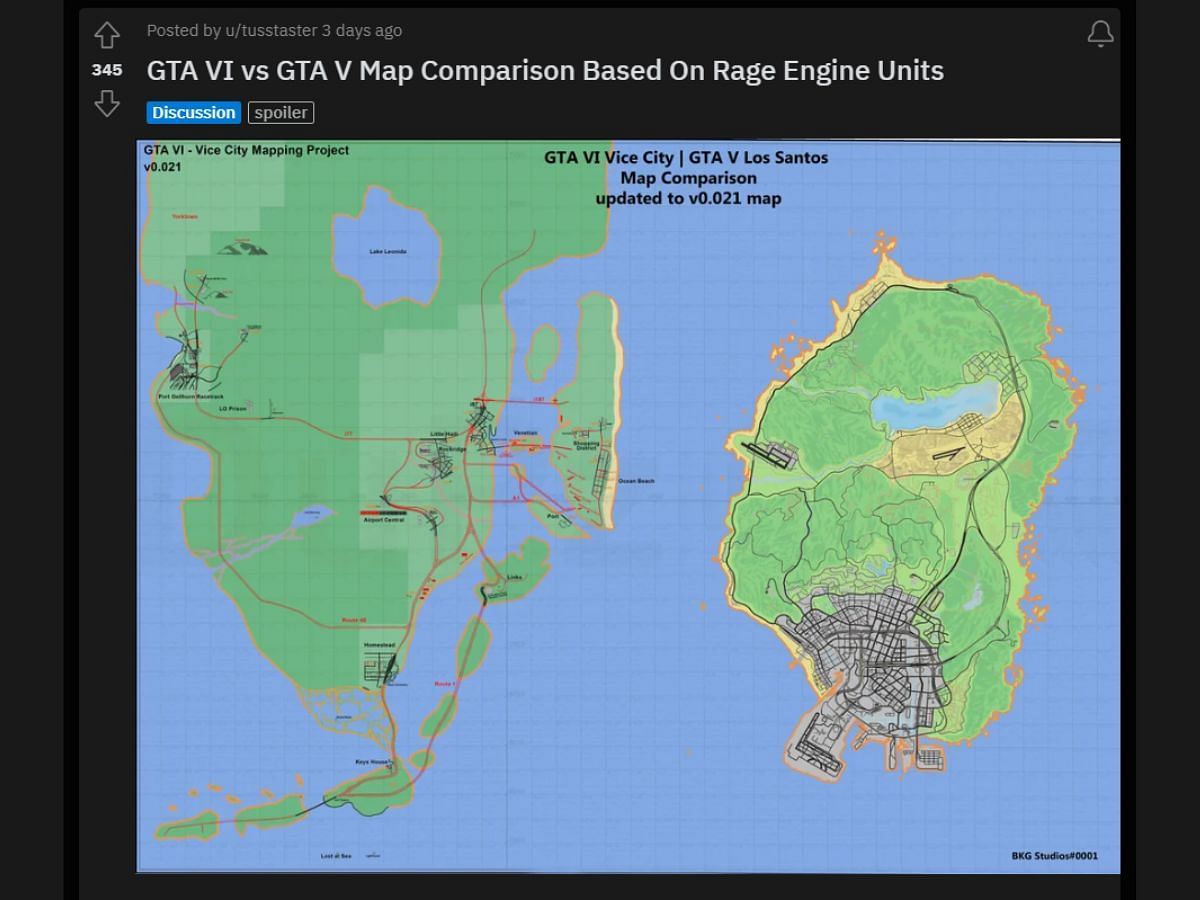 Our second GTA 6 digest of this week also comes from a Reddit user. It was last year when we witnessed lots of GTA 6 data leaked data. One of the prominent info of that leaks was "GTA 6 is returning to Vice City". For those who don't have an idea, it is based on the fictional town of Miami.
A Redditor named tusstaster (Reddit username: u/tusstaster) posted a comparison of maps. He placed both alleged GTA 6 and GTA 5 maps side by side. As noticed by sportskeeda, this new map showcases iconic locations from GTA Vice City, including Vice City Beach Island and Starfish Island. The leaked map suggests that the Vice City Mainland Island has been expanded to an enormous size, as depicted in the image. This expansion may indicate that players will have much more to explore and experience in the Vice City setting of GTA 6. With these classic locations making a return, fans of the series will likely be eager to see what other elements from the previous game will make a comeback in the upcoming installment.
He further added, "There are countless Cities/Towns such as York Town, Red Hill, etc found in the files. Most of these locations point towards the north of Port Gelhorn, making the map expand even further north".
GTA 6 Will be Truly Mind Blowing in Every standard
It is undeniable that if the leaked map is any indication of what we can expect from GTA 6, the game will be truly mind-blowing. As a developer, Rockstar Games has always been at the forefront of open-world gaming, consistently pushing the limits and redefining what is possible. It seems clear that the studio is once again poised to deliver an exceptional experience to players with its newest release.
Read More: Leon Kennedy and Claire Redfield from Resident Evil are Arriving in Fortnite
Source: Comicbook