Once upon a time, Steam Deck was the first thing that came to mind when discussing handheld PC gaming devices. However, prominent hardware companies have recognized the potential in this market. Sony, for instance, is preparing to launch their own device called Q-Lite. While this article focuses on Asus Rog Ally rather than Q-Lite, it has been captivating the audience's attention for some time now. This raises the question: is the Steam Deck's dominance under threat? To shed light on the matter, a fair Steam Deck vs Asus ROG Ally comparison will be conducted.
About Steam Deck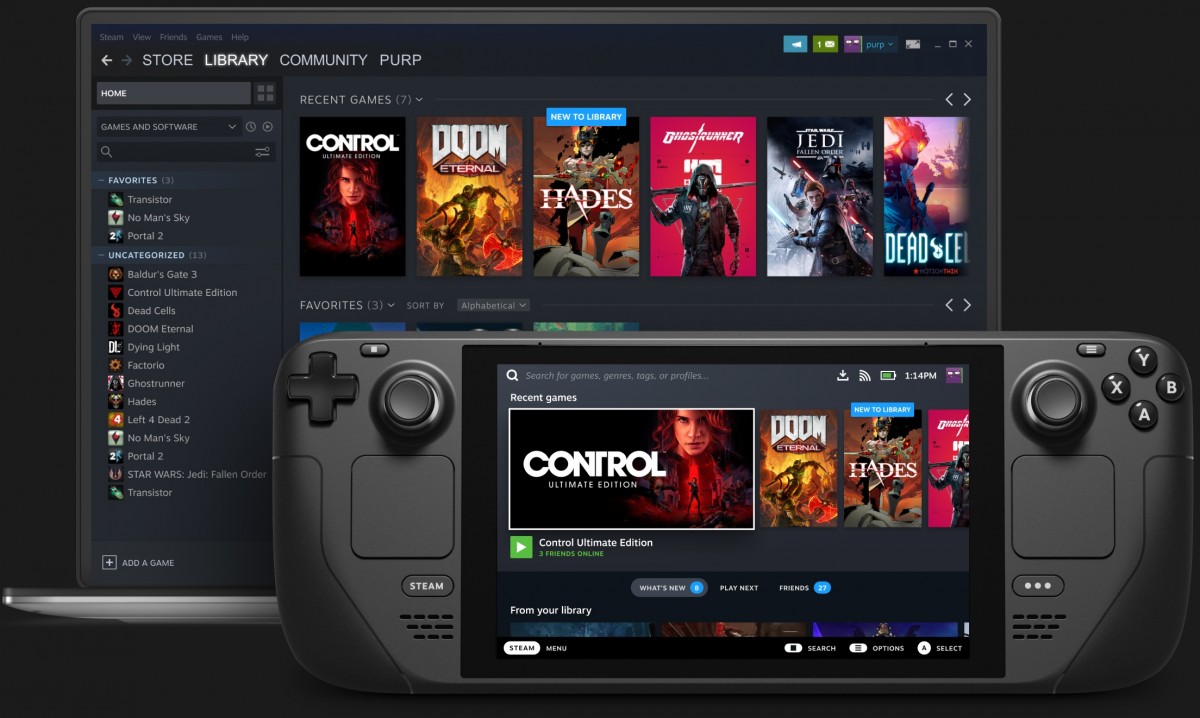 Steam Deck is a handheld PC gaming device developed by Valve Corporation. It was announced in July 2021 and was commercially available in Feb 2022. Steam Deck contains a plethora of games. With its powerful hardware, it enables access to a vast collection of PC games available on Steam. You can also install Windows on it. The Windows operating system provides a familiar environment, allowing gamers to install and enjoy their favorite titles seamlessly. This makes Steam Deck an enticing choice for portable PC gaming.
About Asus Rog Ally
Asus has entered the handheld gaming market with the Asus ROG Ally, the first significant rival to the Steam Deck. This gaming handheld runs on Windows 11 and is powered by a new AMD chip called Ryzen Z1 Extreme (also available with a lower-end Z1 variant). This device introduces a compelling alternative to the Steam Deck, adding more competition to the market.
Who is better: Steam Deck vs Asus Rog Ally?
We are going to compare both of these based on certain parameters such as Design, Specifications, Performance, and Price. This will give a clear can concise idea about the difference between these two gadgets.
Design
The Asus ROG Ally and Steam Deck have a similar design with a central screen and side controls. However, there are noticeable differences. The Steam Deck is bulkier, providing more stability but may be less comfortable due to its larger size. On the other hand, the ROG Ally has angled sides and a slimmer profile, potentially offering a better grip for users with smaller hands.
In terms of looks, the Steam Deck has a black-and-gray aesthetic, while the ROG Ally features a bold white color with RGB accents and angular details. Ultimately, the choice depends on personal preference, with the ROG Ally offering additional LED lighting options to consider.
Specifications
If you look at the specification comparison of Steam Deck and Asus Rog Ally. You will see ROG ALLY has a clear edge over Deck. Almost in every department, ROG ALLY has outsmarted the Steam Deck. Not to mention, Steam Deck lack only one year behind in terms of the official launch. However, the specification of ROG ALLY seems to be at least 2-3 years ahead. It is indeed worrisome for Deck and they have to find a way to challenge the ROG ALLY in this department as soon as possible.
(Image via IGN)
Performance
The gaming performance on the Asus ROG Ally is impressive, with 1080p visuals appearing amazing and detailed on its 7-inch screen. However, the gaming excitement is limited to around 1-2 hours, which is expected as the Ally has a battery similar in size to the Steam Deck. Indie titles run smoothly on both devices, and their overall battery life is relatively close. When playing demanding AAA games in default Performance mode, you can expect approximately two hours of gameplay on both the ROG Ally and Steam Deck.
Price and Availability
The Asus ROG Ally Z1 Extreme 512GB model will cost $699.99, while the standard Z1 256GB model will be priced at $599.99. The additional details will be announced later. On the other hand, the Steam Deck offers three options: the 64GB model at $399.99, the 256GB model at $529.99, and the 512GB model at $649.99. Both will be available at online stores via shipping.
Who is the winner?
There is no doubt, ROG Ally has a clear edge over Steam Deck in terms of performance and specification. However, the same variants of devices will be $50 more expensive in the case of ROG. Despite one should definitely go for Asus ROG Ally as it will be a worthy investment in the last.
Read More: GYLT, Former Google Stadia Exclusive, heading to PlayStation, Xbox, and PC
Source: IGN