Valorant has truly emerged as a global sensation in the FPS gaming industry. Although inspired by CS:GO and Overwatch, Valorant has successfully caught gamers' attention around the world. Apart from the game concept, one more thing is making this game attractive. This is Valorant's weapons skins. However, the weapons skins concept is not new in Valorant but has already been implemented by other games for ages. Moreover, Riot Games took this to another level along with ranges of weapons. There are a total of 17 weapons in the game from pistols and snipers to auto rifles. However,  in this article, we are going to discuss the top 10 Vandal skins. This list will include the latest skin lines as of 2023.
Please take note before we proceed. The list is based on the audience as well as the author's personal opinions.
10. Forsaken Vandal
Price: 1775 VP
Release Date: April 27, 2021
Forsaken Vandal's sleek and futuristic design immediately catches the eye. The vibrant colors and intricate patterns make it visually stunning. The smooth reload animation and unique sound effects enhance the overall shooting experience. Its rarity adds exclusivity and prestige. Moreover, equipping the Forsaken Vandal gives a sense of confidence and style on the battlefield. For players who seek to make a statement and stand out, the Forsaken Vandal is an essential addition to their Valorant collection.
9. Gaia's Vengeance
Price: 1775 VP
Release Date: March 1, 2022
Gaia's Vengeance's nature-inspired design is visually eye-catching. The vibrant colors and detailed details make it stand out. The smooth reload animation adds a satisfying touch. Equipping Gaia's Vengeance gives a unique and stylish look during the battle. For players seeking a visually appealing and distinct weapon skin, Gaia's Vengeance is a must-have choice. Its finished animation includes the tree whose colors depend on your skin.
8. Chronovoid Vandal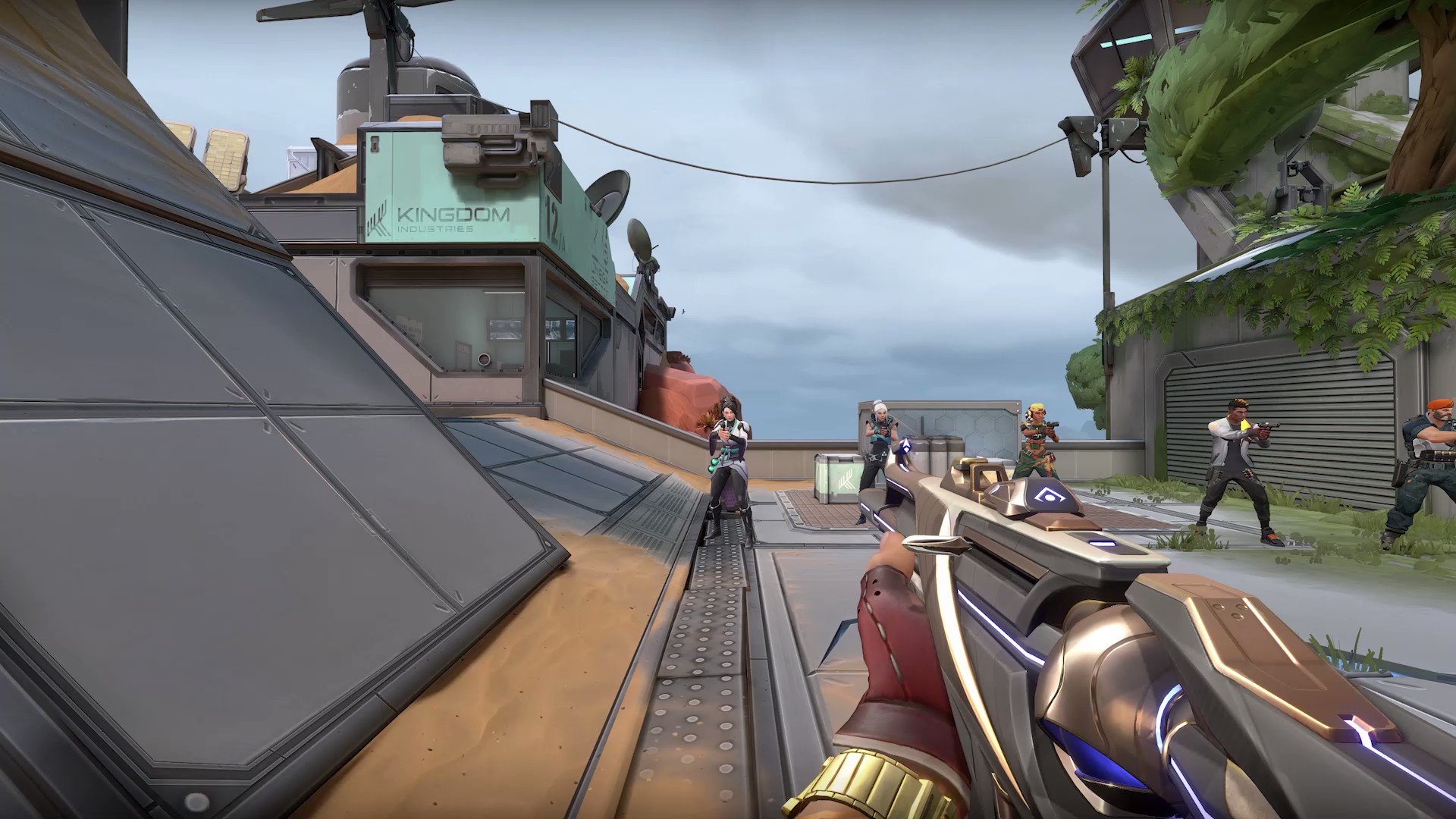 Price: 2175 VP
Release Date: August 23, 2022
Chronovoid Vandal's sleek metallic finish and glowing tone make it stand out. The animated chrono-portal reload animation adds an extra level of beautification. Equipping the Chronovoid Vandal gives a sense of power and uniqueness. For players who want visually impressive and attention-grabbing weapon skin, the Chronovoid Vandal is a top choice. The Chronovoid finish animation has been also praised by the community. As compared to normal vandals it is slightly costlier.
7. Origin Vandal
Price: 1775 VP
Release Date:  June 8, 2021
The Origin Vandal is a skin in Valorant that you shouldn't miss. It has a sleek and stylish design with a simple look. The black-and-white color scheme gives it a classy feel. When you reload, it moves smoothly and makes satisfying sounds. Using the Origin Vandal makes you feel special and stands out among others. If you like a clean and sophisticated appearance, this skin is a must-have. It not only looks good but also performs well in the game.
6. Champions 2021 Vandal
Price: 2675 VP
Release Date:  November 16, 2021
Probably the most expensive skin on the list. This skin was introduced during the first-ever Valorant Champions 2021 event. Not to mention, this was limited-edition skin. It also introduces multiple finishers. Some of the finishes include a VCT logo sphere and a finisher with Brimstone carrying the world, leaving a red eclipse-like effect. The Champions 2021 Vandal is a limited-time gem that captures the spirit of victory in Valorant.
5. Sentinels of Light Vandal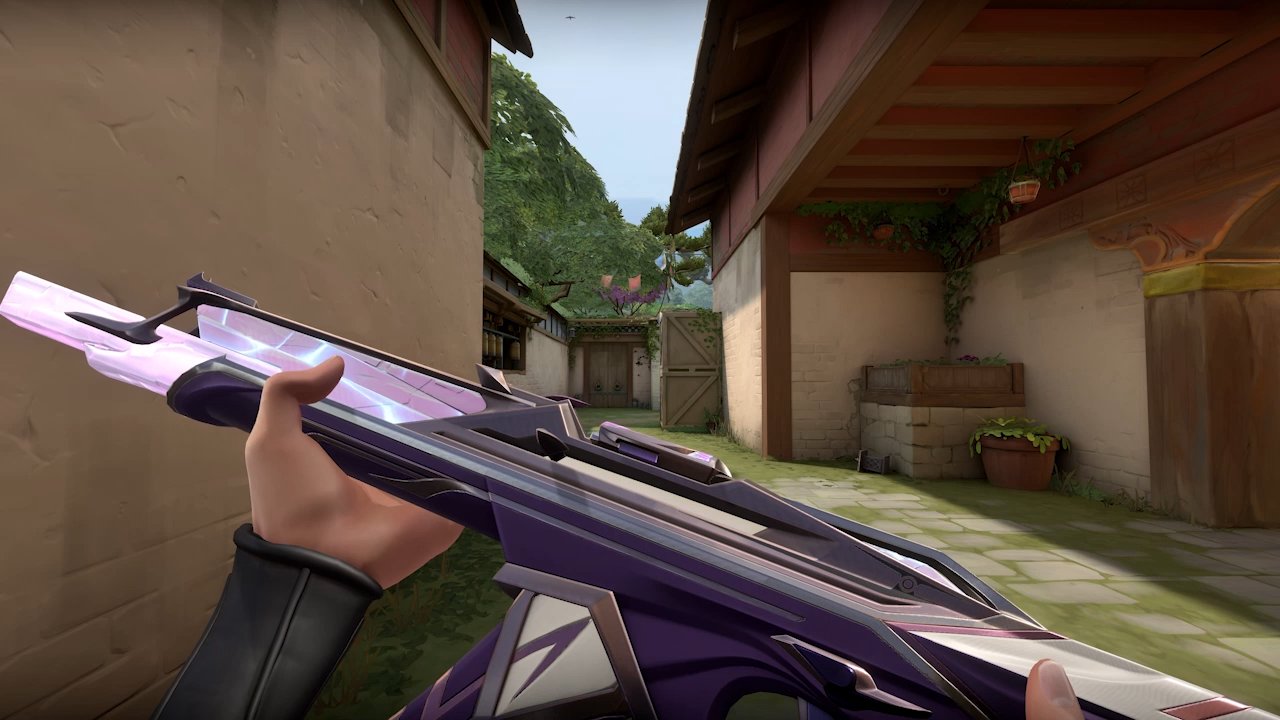 Price: 2175 VP
Release Date: July 20, 2021
Inspired by the epic Sentinels of Light event in League of Legends, these skins bring a powerful and radiant aesthetic to Valorant. It resembles the Prime skins but with a darker appearance, magical rocks, and a mystical aura. It includes audio and a finishing move that pays homage to League of Legends characters and stories. If you're a fan of League of Legends and enjoy playing it, this Vandal skin is a great choice. It offers a solid design and adds an extra touch of excitement to your gameplay.
4. Elderflame Vandal
Price: 2475 VP
Release Date: July 7, 2020
The Elderflame Vandal is an amazing skin in Valorant. It takes inspiration from legendary dragons, turning the Vandal into a powerful and majestic creature. With its detailed design and fiery effects, it stands out on the battlefield. The skin has special animations. It is like a flaming reload and dragon-like fire breath while shooting. Using the Elderflame Vandal provides an immersive and captivating experience for players who want a legendary and strong weapon in their collection
3. Glitchpop 2.0 Vandal
Price: 2,175 VP
Release Date: February 2, 2021
Riot introduced the Glitchpop 2.0 collection in February 2021, following the popularity of the original Glitchpop skins. The standout feature of the collection was the Glitchpop 2.0 Vandal, which had an amazing look and sound. The skin comes in four variations: Base, Blue, Red, and Black. Players can use Radianite Points to unlock special visual effects (VFX), animations, and an appealing finishing move for the Glitchpop 2.0 Vandal. After Prime and Reaver, Glitchpop is also labeled as better aiming weapon.
2. Prime Vandal
Price: 1775 VP
Release Date: June 2, 2020
The Prime Vandal has been in Valorant since June 2020, offering four different variants: base, orange, blue, and yellow. At some point in time, the community started to label this gun as a skin that include an aimbot. Although u can't blame them for the satisfaction it creates especially after headshots. Considering this, it's worth considering purchasing the Prime Vandal whenever it becomes available in your store. Its popularity and reputation make it a desirable choice for Valorant players looking for an enjoyable and effective weapon skin.
1. Reaver Vandal
Price: 1775 VP
Release Date: October 27, 2020
Number one on the list is Reaver. I assume this doesn't come as a surprise to anyone. It was released way back in 2020 during the early phase of Valorant. Since then, this skin has dominated the hearts and minds of players. This skin has been constantly praised for its bullet sound. Not to mention, the reloading feeling of Reaver is something else that is hard to explain. Next time, if you encounter this Vandal in your store don't miss the chance to grab it.
With this, we are wrapping the list. However, it is worth mentioning that skins selection also depends on gamers' personal choices. Hence, gamers are advised to follow their own choice. Till then, stay healthy and happy gaming.
Source: whatifgaming