Yes, you heard it right. Sony has been reportedly hacked by a ransomware group that is known as Ransomed.vc. The group informed yesterday about successfully breaching Sony's defence.
First Reports came from Cybersecurity Connect. They said that the group initially shared information about the hack on both their regular website and their secret internet page. But now, their official website and social media pages are not working. The group still talks about the breach on their secret page, where they say they successfully got into all of Sony's systems. They don't want to keep the information, though; they want to sell it.
Sony has just been hacked!! #PlayStation5 #ps5 #sony #PlayStationhack pic.twitter.com/rfZhNOLucs

— Saucey terps (@sauceyterpz) September 25, 2023
Ransomware Group are selling Sony's hacked data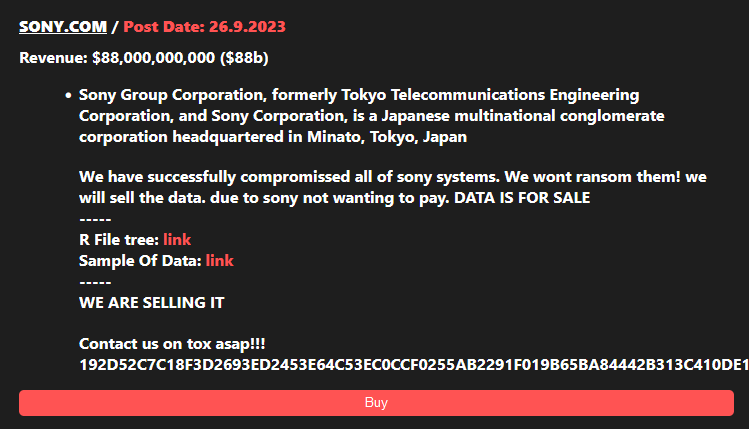 Ransomed.vc showed some proof that they hacked Sony, but Cyber Security Connect didn't think the proof was very good. They had some pictures of a login page, a PowerPoint with information, and some computer files, but Cyber Security Connect didn't think it was enough to prove what they said.
"Sony Group Corporation, formerly Tokyo Telecommunications Engineering Corporation, and Sony Corporation, is a Japanese multinational conglomerate corporation headquartered in Minato, Tokyo, Japan," 
'We Are Investigating the Situation' – Sony on Hacking Claims
Sony responded to the hacking claims by telling IGN that they are currently looking into the situation and have nothing else to say for now. Sony hasn't said much about the breach and how it's affecting them.
This is not the first time that Sony caught up in this situation. In fact, Sony has been repeatedly on the radar of hackers and ransomware. In the past, they have been breached many times some of which are mentioned below
In 2011, there was a hack on the PlayStation Network, impacting 77 million users.
In 2014, Sony Pictures Entertainment experienced a breach, resulting in the theft of unreleased films.
2017 saw the compromise of Sony PlayStation social media accounts and now this.
While this breach might not be as big as the 2011 PlayStation Network hack, which affected 77 million accounts, it reminds us that any breach is a serious problem. We hope Sony can quickly make their digital systems more secure to protect their online services.
Read More: Tim Cook Uses Vision Pro Daily For "Relax Time"
Source: Siliconangle